On-site solutions: enhancing performance and presentation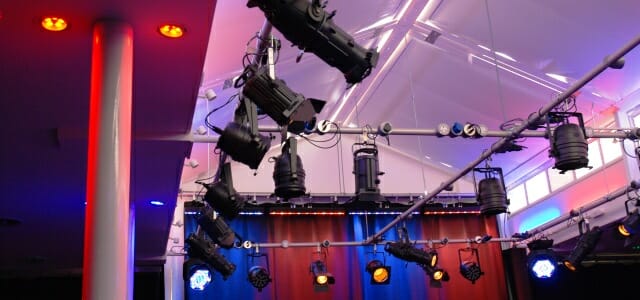 At School Stage, we are able to achieve a good balance between Cost and Quality. We know that there are a lot of companies out there who install cheap, poor quality equipment. This simply does not achieve the results needed for good presentations and is less likely to last the test of time.
This poor quality equipment is less reliable with lighting systems, providing poor intensity and PA systems lacking clarity. As we understand, each school or individual will have their own bespoke needs and this is where we come in with our vision and knowledge to ensure you have systems that give the best sound and visual experience you can buy within your resources.
Stage Lighting
Good lighting makes all the difference to the experience of both performer and the audience. Lighting magnificently changes the atmosphere of an everyday space to something quite spectacular. As well as enhancing productions, some schools use our lighting to change the mood of assemblies by using cool blues on hot summer days and warm glows for those cold, dark winters.
We mostly use a combination of conventional lighting as well as the latest power-saving LED lighting resulting in well-lit performers with great washes of colour and a range of effects that can be changed instantly, without the use of filters. However, due to better quality LED lanterns which do produce a good warm white light, we are increasingly installing LED only systems.
We have worked in a number of special schools where the design needs to be carefully considered due to the fact that some lighting can cause distress. As well as for performance spaces, lighting can be used to generate immersive spaces that create the right environment to stimulate pupils' learning abilities. Furthermore, our qualified team at School Stage also have specialist knowledge of how to choose the best type of lighting for people with autism.
Sound Systems
Sound reinforcement and amplification in a school or community environment needs a specialist approach.
We will design a system that works well with child or amateur performers to fit around your particular requirements and budget. After analysing your rooms' acoustics, the system will be attuned to your space. This ensures that your audio system will give good clarity and audibility of sound.
Two sets of audio inputs are usually installed in a space so that the sound system can either be operated from the front (for everyday use such as assemblies or meetings), or from the back (for productions or concerts). We also offer the latest digital wireless technology so you can use handheld or head-worn microphones without wires or interference.
Our sound system installations are designed to be flexible and multi-functional, covering every application where you need to be heard. Installing Weatherproof PA systems for outdoor performance spaces is another one of our specialities.
Audio Visual
The impact of audio visual (AV) technology on learning environments is remarkable. Projection and other AV equipment has become an essential feature of every educational and community space.
Projection – we can install projectors in any hall whether suspended from the ceiling or wall-mounted.
Screens – manual or electric for front or rear projection.
Digital displays
Tannoy/Public Address systems
Motorised cameras
Touch-screen control systems in lecterns or wall panels
Stage Curtains, Theatrical Curtains & Tracks
School Stage designs and installs bespoke, made-to-measure stage curtains, theatrical curtains, front-of-house drapes, cycloramas, valances, star cloths, tabs, acoustic curtains, leg curtains and blackout blinds.
Curtains and drapes are specially made for each project using inherently fire retardant fabrics. They can be used for decorative, theatrical, functional or acoustic purposes.
Rigging & Lighting Grids
From a single lighting bar to a full lighting grid, we will design, supply and install lighting and sound support infrastructure to any space.
Our engineers will determine the fixing and loading requirements, providing secondary supports where required. We can also test and, where necessary, strengthen an existing structure, ensuring it remains safe.
Electrical Services
Our qualified electricians are experienced at carrying out electrical work in schools, churches and community buildings. Work is completed to a high standard of safety and is NICEIC certificated.
Theatrical and commercial electrics
Electrical refurbishment
Electrical design
Energy-efficient lighting installation
Power supplies and fuse boards
School bells and sounders